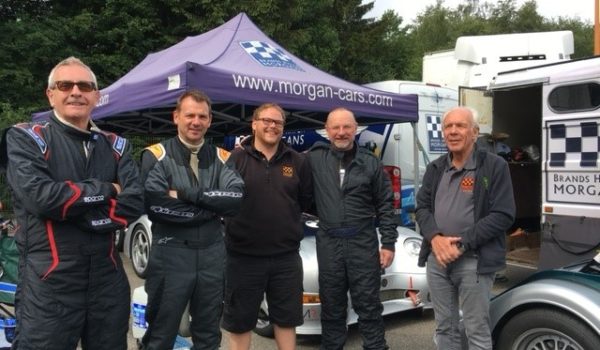 Racing
Most of our clients who enjoy racing Morgans, started by simply buying themselves a 4 wheeled Morgan.

The interest in "going faster" is generally ignited once "normal" driving begins and then discussions about enhancing the natural power the engine delivers and improvements in performance can begin in earnest!

Here at Brands Hatch Morgans, we also look after a range of Morgan racecars that compete in various race by categories in the UK and Europe.  As well as race support, we also carry out race preparation of

Steve Lockett 1978 +8

After many years of track days I decided to try my hand at racing in 1995. I had the good fortune to race a 1986 +4 with a Fiat twin cam engine. It had a highly modified race engine, great on track but a bit of a handful on the road! Main achievements with this car were 2 overall class wins in the Morgan Challenge Series and an outright win in a Bentley Drivers handicap race at Silverstone.

In 1997 I bought my current car a 1978 +8 as a project "in boxes", I wanted a car with better reliability. With the help of BHM it was rebuilt into a race car to class C specification, I had great fun racing it in the UK and Europe until work got in the way and I stopped racing in 2001.

Thanks to the encouragement of all the team at BHM I started racing again in 2018 and am totally hooked. I have enjoyed many class wins and had some great battles, I could not do it without the excellent support of Brett and Jamie.

Everyone makes their Morgan their own and if performance and the race potential is interesting then it makes sense to check which Morgans comply with regulations before buying. Both modern and historic Morgans can take part in racing so check the rules at www.morganchallenge.co.uk

If you are interested in race preparation or have a Motorsport related question, fill out the enquiry form below, or alternatively speak to Brett – our Motorsport Manager.