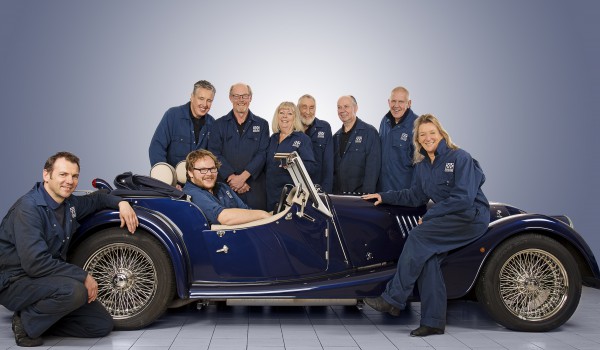 Whos Who At Brands Hatch Morgans
The team here at Brand Hatch Morgans have worked together for many years and thoroughly enjoy every day together and with you – our great client base.  If you know us then keep in touch and if not do get acquainted soon!

Sarah

A good starting point if you call or e-mail, whatever the nature of your enquiry, to make sure that you get sent in the right direction.

Keith

Truly an expert in all things Morgan – is known to have fixed them "by remote" when calls come in from all over the world – an astonishing memory for all Morgan-related matters and our most accurate database for all MOG related queries.  If you have a technical enquiry do call and ask for Keith.

[more…]

Keith's black 4/4 is truly a testament to top notch quality workmanship as he re-built the car from scratch and any bits and pieces he could find, a labour of love.

Brett

Equally skilled in all racing matters and specialist in the restoration projects carried out here at Borough Green – the best known of which are the world famous TOK, XRX1 and two of the three SLRs.  If you need track-related help or advice can and ask for Brett.

[more…]

You can follow Brett in his passion which is Morgan Challenge racing, as well as being one of our expert demonstrator drivers round Goodwood.  Come and take a ride with him!

Phil

Our parts and webshop manager – well known to lots of you and always happy to accommodate new customers – call or email phil@morgan-kent.com for all your parts-related enquiries.

[more…]

Phil loves a challenge!  The more obscure the part, the more he relishes the chase.  You can also see him commanding centre stage at Goodwood where he ensures that we all have a safe and enjoyable day on and off the track.

Jim

Has tried to retire but, by popular demand, works Monday – Thursday each week.  Dashboards and electrics are his speciality so do get in touch early in the week if you need his advice.

Jamie

An excellent mechanic, taught "in house" and nominated for National Apprentice of the Year award during his training, he becomes more and more proficient as the years progress.

Len

An experienced engineer with particular knowledge of wood work and metal work. Happy to take on any challenge that your Morgan 3 wheeler might present.

[more…]

Has been involved in two wheeled machines from 1973, fixing them and riding them in competitions.

Mary

Our accountant and most likely contact if you call in or telephone between 1-2 when she operates as our "lunchtime cover".