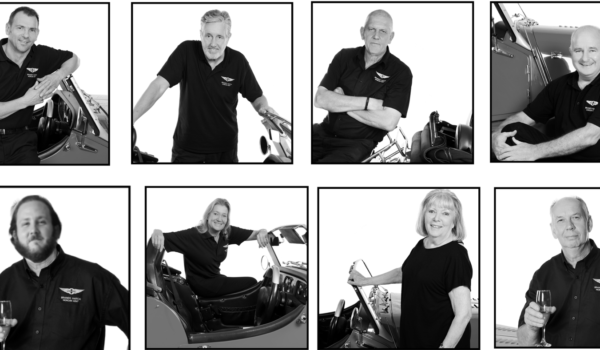 Whos Who At Brands Hatch Morgans
The team here at Brand Hatch Morgans have worked together for many years and thoroughly enjoy every day together and with you – our great client base. If you know us then keep in touch and if not do get acquainted soon!

Sarah

Always a good starting point to send you in the right direction as regards general advice, workshop bookings, new and used cars, anything non-technical and liaison officer for Keith's clinic.

Brett

2021 racing champion! But not just a good driver!
Very knowledgeable about the machine too! So whether you want to talk about performance, routine maintenance or sales, give him a call.

Phil

After over 20 years in the parts department Phil is reducing the days he works to achieve a better work/life balance. He will be out of action for some weeks from late November whilst he recovers from a knee operation – sounds like we got Andy just in the nick of time!

Jim

Cutting back to a 2 day week in May, Jimmy has looked after many of you for many years. Book well in advance if you want him to work on your car and if you have an electrical query!

Jamie

We wished Jamie a fond farewell this week after 17 years working with us.

We hope he enjoys his new life pursuing a career with the AA and that he will continue to make an appearance at our social events.

Len

Continues to be our 3 wheeler expert and enjoys working with wood and metal. Len is keen to undertake any restoration and rebuild work. We imagine he will have a lot to learn in 2022 getting up to speed on the all-new 3 wheeled Morgan.

Has been involved in two wheeled machines from 1973, fixing them and riding them in competitions.

Mary

Our accountant and most likely contact if you call in or telephone between 1-2 when she operates as our "lunchtime cover".

Andy

We are delighted to welcome Andy to the team. He has proved to be a perfect piece of the jigsaw – fitting in just where we need him!

He is helping Phil in the parts department and is also a qualified MOT tester. Andy is a fellow Morgan owner who has a great personality, cheerful, willing, a good salesman, great photographer and an excellent addition to BHM.

Zac

We hope you will join us welcoming Zac to the team. He brings a wealth of 'other car' knowledge to the workshop. He will very likely be doing your MOT in the near future.