#reconnectmyMog Pub Run
April 21, 2021
The day has come to be able to go out and about in the Morgan again. Freedom.
I thought I would start local as I don't know about everyone else but the longer runs seem a bit daunting at the moment. I am sure I will get over it as I have a long list of places I want to take the Morgan when I can.
So in the second blog in this series I wanted to reconnect with the scenic run to the pub. Lunch or dinner in the pub garden is now possible so what better excuse for a bit of an adventure than finding a few new spots and getting out in the Kent countryside. With my very good friend Markie we managed to do this last weekend in the sun. It ended up being a bit of an 80+mile tour along roads we have never driven before. We aimed for three pubs but only managed to find two. Still no idea where the third one was …the one that got away.
 I bet most of you are like me and when you plan a Morgan pub trip you have a checklist you run down…write down your list and see if it compares in the same priority order as mine ☺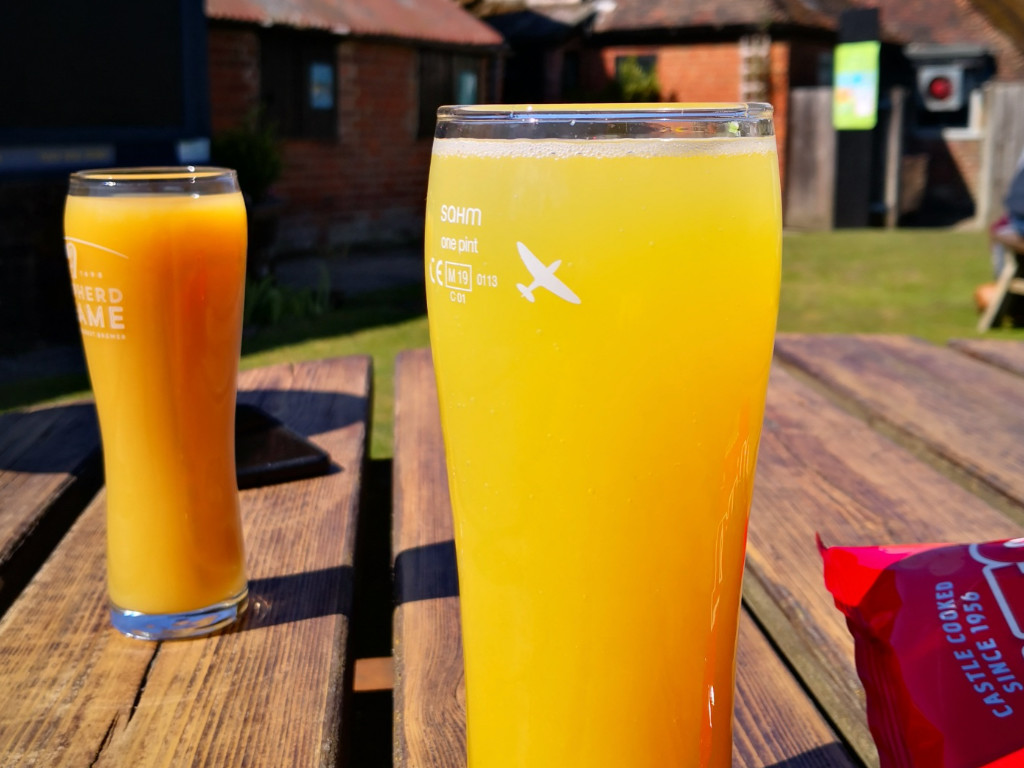 Is there a good car park for the Morgan ?
Are the roads from me to the pub worth the drive ?
Can I get a table in the garden where I can still see my Morgan in the car park ?
Is the food good ?
What beer do they serve ?
Will it be Covid safe (new to my list) ?
After a half hour run past Leeds Castle and several crossings of the Medway we landed at the The Wool Pack Inn @ Benover (https://www.woolpackyalding.co.uk). Very friendly staff and a nice enclosed pub garden to enjoy the early spring sunshine and keep away from that chilly wind. We didn't try the food as we didn't have time but it looked nice when we saw what the other diners were having.
Off we went again looking to look for the mysterious Wheatsheaf @ Bough Beech (https://wheatsheafboughbeech.co.uk). This is the pub we never found. It might be due to all the roadworks springing up everywhere, just poor navigation or really trying to find Larkin Cider brewery in Chiddingstone… but we didn't find it. We would love to know what it is like !
Onwards ! Just round the corner was the newly refurbished and renamed Pheasant Plucker <insert childish joke here> @ Ide Hill (https://elitepubs.com/the-pheasant-plucker/). This is all brand new it seems with a great new garden area with tables spread well apart and car park suitable for any Morgan. A new pizza oven had been installed as well..looked nice but we didn't have time to eat there either as by now it was 2:30 and I promised to be home by 3pm…gentleman start your engines.
We got home almost on time..honestly ! However as I only made it to two of the three pubs I thought I would add a local favourite I can recommend. The Three Mariners @ Oare (https://www.thethreemarinersoare.co.uk). Lovely spot overlooking the creek and from your table you will be able to see your car glint in the sun.
Fabulous to be back out again in the car. Some nice roads, lovely weather, got lost, found some new pubs, talked rubbish with my best friend Markie for a few hours and of course started planning the next trip.
Look out for the next blog which I think might include Goodwood somehow ☺
Share your pub recommendations, photos and stories on Instagram #reconnectmyMog @brandshatchmorgans
More to come from the UnLockMog blog if I ever come back from the pub !