BHM Goodwood 2021
May 21, 2021
It 's May and that can only mean one thing. Well two actually. The next phase of lockdown easing has started but more importantly the BHM track day and the chance to be at Goodwood again. Hooray.
I felt like a kid going back to school over the weekend. Cleaning the car, checking oil, water, tyre pressures. What will the weather be doing, what do I need to pack. Where the hell is that roll of tape to put across the lights to make sure I can get on track. I actually think I was over prepared and way too early, a bit like waking up early on Christmas morning to see if Santa has already visited then realising it is still 10pm the night before !
I was up actually early to ensure I had a really nice drive down to Goodwood and got the feeling of being in the car again. A couple of hours run through the countryside helps enormously for a day at Goodwood. Of course, I wasn't thinking of clipping the apex on those roundabouts, or taking the racing line on the hairpin on the road to Goodwood..me never. Actually, it was a bit of a wet start to concentration was needed.
Arriving at the gates always brings a huge smile and even more so when you see so many other people milling around, getting their cars noise tested, taking out weight on their cars to make them 'super legerra's' for the day,  And you can't forget the BHM welcome, Keith, Jamie, Brett, and Sarah. But where was Phil? He always orders me around on the day, I missed him! Hope you are ok Phil.
After a quick breakfast at the NAAFI Wagon it is off to the sobering part of the day. The driver briefing. No overtaking unless asked, no timed laps, not many marshals if you have a problem…..but have lots of fun. That is all forgotten when that little band is put round your wrist "Driver' it says. 
The call for the first time into the waiting lane and then the pit lane is always a bit nervous but as soon as you get the green light to head out you ask yourself 'why don't I do this more often' it is totally addictive and so much fun. Especially as the wet weather had now passed and all you saw in front of you was a lovely dry track.
The fun doesn't stop with being on track, you have cars to look at, friends to catch up with who have come over for moral support (that means you Tony and Pete) and more friends to say hello to. Especially Jason Dodd https://www.jasondoddphotography.com/section877802_379124.html who always takes photos of you to make you look like a driving legend even if you are pootling around. Something to do with exposure times, special lenses and filters but I put it down to talent from the person behind the lens.
Parade laps are always fun at lunchtime. It feels like hundreds of Morgans appear out of nowhere to have a couple of gentle laps around the circuit.
If you haven't done it before in your car then I can only recommend to put your name down now for 2022, start saving now and it is worth every penny. But don't forget a few extra pennies for NAAFI wagon trips. Did I say I had a snack or two ?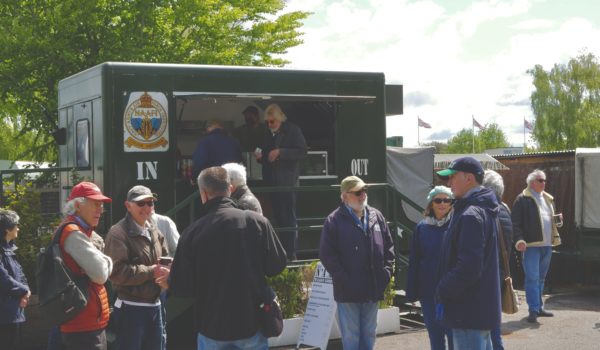 The international trip has to be next on the cards in between a few more days out, pub runs, summer evening countryside runs and all the other things you can do in a Morgan in the summer. Look out for the next edition.