2023 Events
April 18, 2023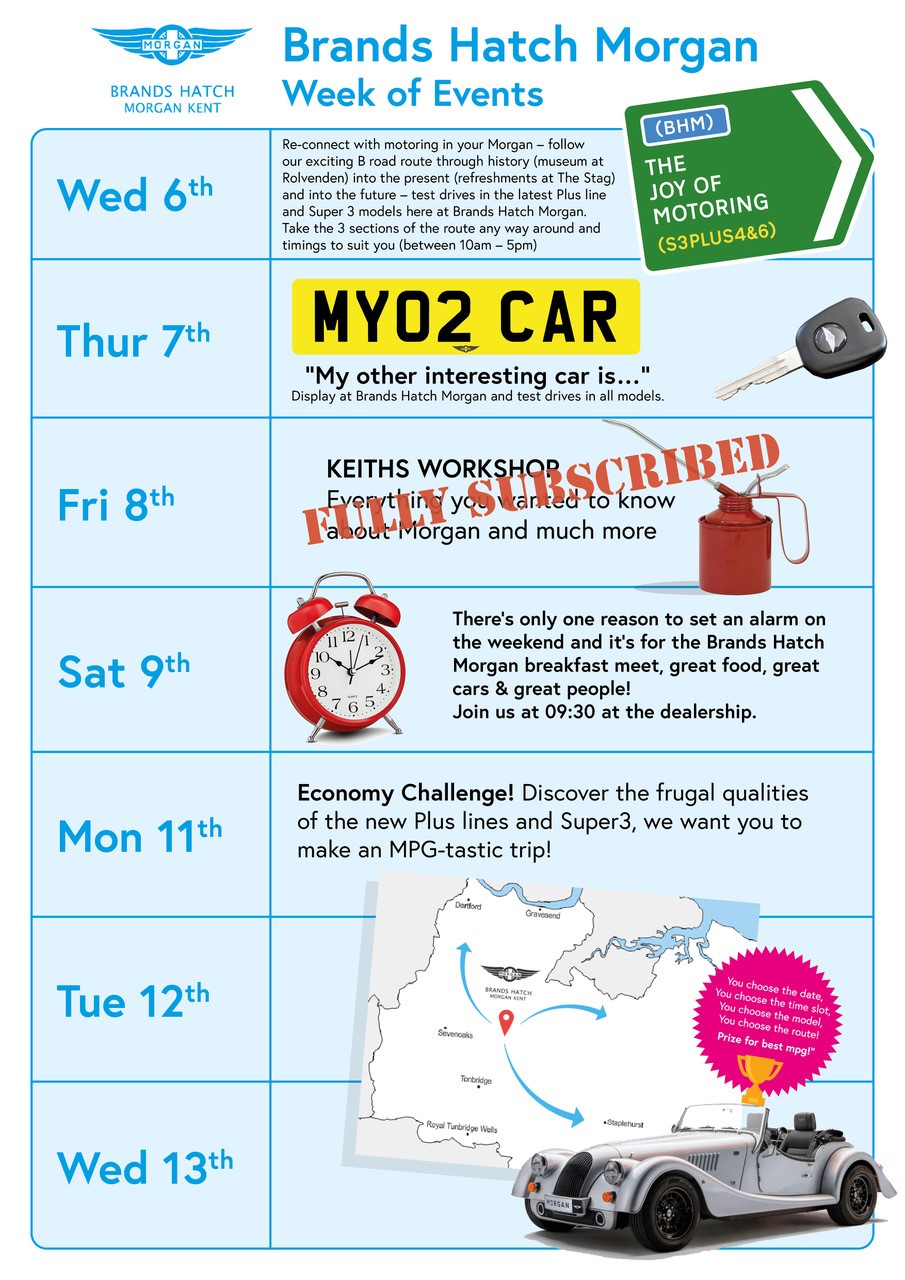 6th September – Reconnect with the Joy Of Motoring in your Morgan.
Follow our exciting B road route through history in your Morgan ( Morgan Museum at Rolvenden) into the future ( The Stag motoring themed public house) and into the future – test drives of the Super3 and new Plus range Morgans at BHM.
7th September – " My other interesting car is" 10am – 5pm
Bring along any interesting other car , be it classic/sports/custom/kit/odd-ball – for a display at BHM and photo for a gallery of the day – and test drive the latest machines from Malvern – the superb Plus Four / Six and Super3. Get in touch now to book your test drive slot.
9th September – Breakfast Club – from 9.30 -12..
Lots of lovely cars and people – hot drinks and breakfast rolls from the BBQ
11th – 13th September – held over 3 days – The BHM 3 Day Eco Challenge
Challenge your perceptions – take a new model Morgan ( Super3 / Plus Four or Plus Six) out for a prescribed 30 min drive. We set the trip computer and you discover just how astonishing the mpg can-be, even with the willing performance on-tap. After 3 days the highest MPG achieved, in each model, wins a prize. Please contact us now to book your machine of choice and time slot!
For More details, and to book a test drive slot for all the above days, please give the team at Brands Hatch Morgan Kent a call on 01732 882017 or email [email protected].
25th November – Festive Fayre……………………………..
9th December – Christmas Party…………………………..
For more details on any of our events please call us on 01732 882017 or email [email protected]